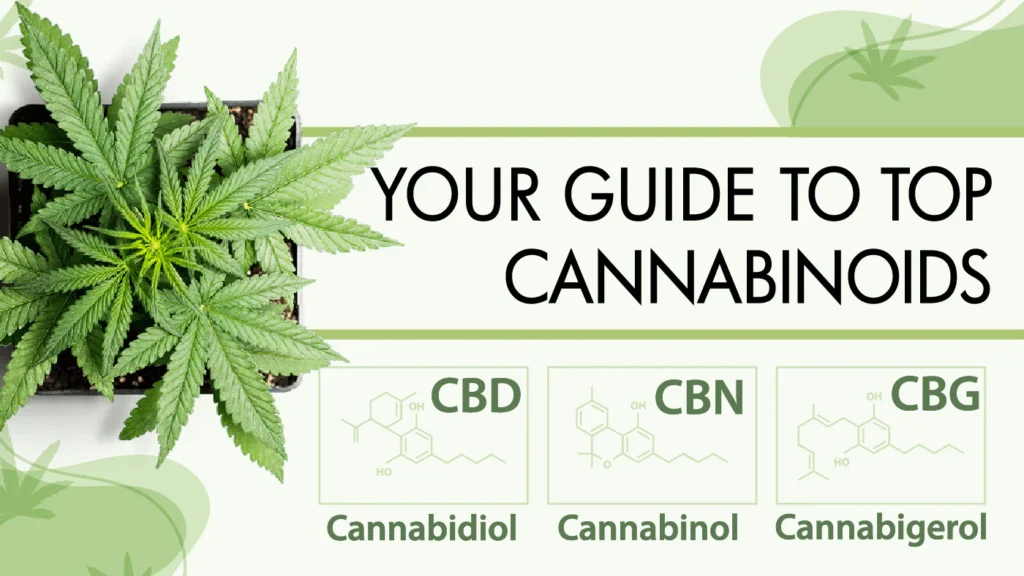 Let us explore the differences between three prominent cannabinoids: CBD, CBG, and CBN. Understanding the unique characteristics of each cannabinoid can empower you to make informed decisions about your cannabis consumption. Join us as we dive into the distinctive qualities of CBD, CBG, and CBN, and discover the potential benefits they offer. At Purple Moose Cannabis, we are committed to providing high-quality cannabis products and guiding you on your cannabis journey.
CBD (Cannabidiol):
CBD, short for cannabidiol, is one of the most well-known cannabinoids found in cannabis. Unlike THC, CBD does not induce psychoactive effects and is known for its potential therapeutic benefits. Here are some key characteristics of CBD:
Potential Benefits: CBD has been studied for its potential to provide relief from anxiety, pain, inflammation, seizures, and various other conditions. It may also promote relaxation and overall well-being.
Non-Psychoactive: CBD does not produce the "high" associated with THC, making it an appealing option for individuals seeking therapeutic effects without psychoactive effects.
Wide Availability: CBD products, ranging from oils and tinctures to topicals and edibles, are widely available due to their popularity and legal status in many regions.
CBG (Cannabigerol):
CBG, or cannabigerol, is a lesser-known cannabinoid that is gaining recognition for its unique properties. Often referred to as the "mother cannabinoid," CBG is considered a precursor to other cannabinoids. Here's what you should know about CBG:
Potential Benefits: CBG is believed to have potential antibacterial, anti-inflammatory, and neuroprotective properties. It may also aid in managing glaucoma, inflammatory bowel disease, and other conditions.
Emerging Research: While CBG research is still in its early stages, scientists are uncovering its potential therapeutic applications and exploring its interactions with other cannabinoids.
Availability: Due to its lower concentration in cannabis plants, CBG is currently less abundant and can be found in select strains and specialized products.
CBN (Cannabinol):
CBN, or cannabinol, is a cannabinoid that develops as THC ages. As THC degrades, it transforms into CBN, resulting in unique characteristics. Let's explore CBN further:
Potential Benefits: CBN is believed to have potential sedative effects, making it potentially useful for promoting sleep and relaxation. It may also possess mild analgesic properties.
Interaction with THC: CBN is often associated with the sedative effects commonly experienced when consuming aged or oxidized cannabis products.
Availability: While CBN occurs naturally in small quantities, it can also be found in some specialized products formulated to enhance relaxation and sleep.
 Ready to explore the potential of CBD, CBG, and CBN? Visit Purple Moose Cannabis (www.purplemoosecannabis.com) today at one of our conveniently located dispensaries in Toronto, Oshawa, or North York. Discover our selection of high-quality cannabis products, including CBD, CBG, and CBN options in flower, pre-rolls, tinctures and in edibles.
Locations:
Purple Moose Cannabis Oshawa
Address: 575 Laval Dr Unit #400, Oshawa, ON L1J 6X2
(289) 240-8338
Purple Moose Cannabis North York
Address: 5984 Bathurst St, Toronto, ON M2R 1Z1
(647) 258-9957
Purple Moose Cannabis Toronto
Address: 1383 Lawrence Ave W, North York, ON M6L 1A4
(647) 258-9956


[Disclaimer: The information provided in this blog is for educational purposes only and should not be considered as medical or legal advice. Consult with a healthcare professional for all medical issues and the use of cannabis products. Consumption of cannabinoids should be done responsibly and in compliance with local laws and regulations.]