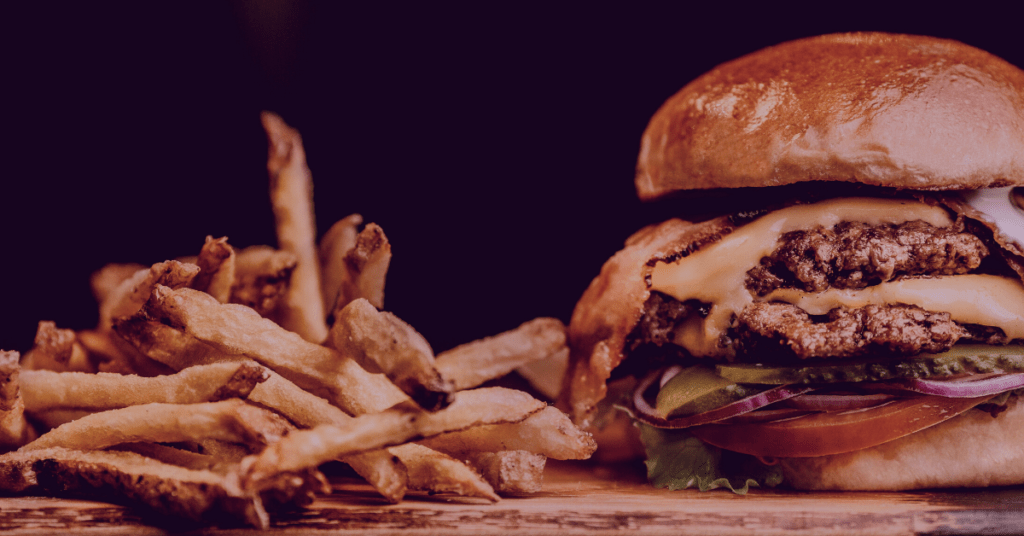 After extensive (and delicious) research, we at Purple Moose Cannabis think we've discovered a few of the greatest munch spots in Oshawa so that when the munchies set in, you're already prepared or know where to go!
This well-known burger joint cracks our list not just because of their juicy burgers and world-famous, hand-cut fries, but also because of how close it is to Purple Moose Cannabis Oshawa! Located in the same strip mall in the Oshawa Smartcentre, you can get your weed and your munchies quickly and easily! 

Available for Pickup, or Delivery via Skip the Dishes.
Located only a 7-minute drive from us, Cyrus has been rated #1 on TripAdvisor in "Oshawa's Quick Bites" category and we think maybe the entire Durham Region! Persian food is known to tingle the tastebuds, and what better way to experience this delicious cuisine than after enjoying some top-tier cannabis from Purple Moose!

Call 905-448-0892 to pick up takeout.
Located 9 minutes from Purple Moose in Downtown Oshawa, Mathilda's offers takeout that is completely vegan, plant-based and completely delicious! With a 4.9 star rating with over 350 reviews on Google, For those who are "green plant" oriented, Mathilda's is an amazingly healthy and scrumptious option!
Our Menu Recommendation: the Banh Mi sandwich has got the people buzzing! Be sure to check it out!
Available for walk-in takeout only.
As a local business ourselves, we really love to see other local spots do well! Just 6 minutes from Purple Moose, BRGRS opened their first location only recently and have already become known for quality their burgers, chicken sandwiches, poutine, and more, and because nothing hits the spot like a good burger…
Find them on Uber Eats & Skip the Dishes for Pickup or Delivery.
We know, we know, there's a lot of burger joints on this list, but how could we not include "Mr. Burger"?! Established in 1976, Mr. Burger has become an Oshawa staple and withstood the test of time! Only 5 minutes from Purple Moose Cannabis, visiting Mr. Burger is half the experience! Enjoy your high in a good 'ole diner with fun old-school posters and license plates and then load up on the Banquet Burger, some Onion rings and a milkshake!

Pickup or Delivery is also available via their website or on UberEats.
While it's a bit of a drive from PMC, 9 minutes, it's definitely worth the "trip"! Cones and Characters is located in Downtown Oshawa and is one of the "coolest" spots to check out. It boasts a playful, old-school ice cream parlour/Hollywood vibe and ice cream and milkshakes that are guaranteed to satisfy all your munching needs!
Our Menu Recommendation: You've got to try any of the mutant shakes – a milkshake with a variety of crazy toppings!

Also available for Pickup or Delivery via Skip the Dishes.
We hope this list of our favourite munch spots in Oshawa has got your stomach grumbling and you check out some of these great, local food options!
Bon appetit!