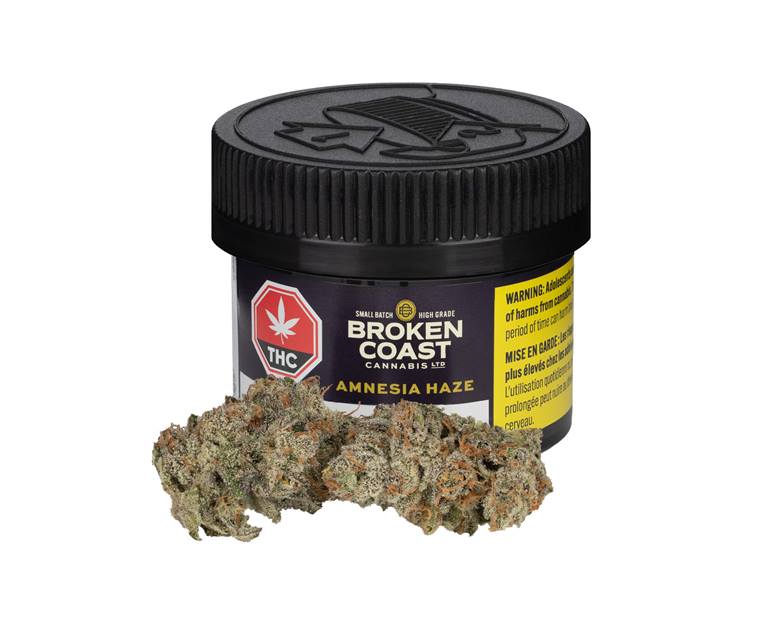 September 2021 Staff Picks: Broken Coast Amnesia Haze and Pure Sunfarms Pink Kush
Here at Purple Moose, our staff get to try various strains and products on the shelves. But they also get tons of feedback from our customers! With all the products available in our shop, two cannabis flower strains stood out amongst the rest. These were Broken Coast Amnesia Haze and Pure Sunfarms Pink Kush!
Broken Coast prides itself on cultivating craft, small-batch, indoor-grown flower. Their strain, Amnesia Haze, is a sativa dominant strain with lime-green buds and a refreshing terpene profile of lemon citrus and spice. With THC levels of 24.2%, this sativa will definitely leave one buzzing, and is one of our favourites helping to keep everyone on their toes!
Pure Sunfarms cultivates sun-grown, premium cannabis and offer a variety of classic strains. We absolutely love these guys because their cannabis is always great quality for a really good price! One of our favourites here in the store (and popular amongst customers!) is their Pink Kush. This is a famous indica-dominant strain, known for it's gassy terpene profile and heavily sedating effects. Coming in at 19.9% THC, it still packs a punch and is the perfect go-to after a heavy shift at work.
Find both these favourite strains from our online shop.